Located on the south eastern coast of Spain,Costa Blanca (known as the White Coast) can be divided into two parts, the Costa Blanca North and the Costa Blanca South. 
The Costa Blanca region extends from the town of one of British favourites, Dénia in the north, beyond which lies the Costa del Azahar, down to Pilar de la Horadada in the south. 
Costa Blanca North includes popular towns like Denia, Javea, Altea, Benidorm and the Orba and Jalon Valley areas,Benidorm and Alicante cities are the major tourist centres, whilst the Costa Blanca South includes popular coastal towns like Torrevieja, Ciudad Quesada, and the well-known urbanisations of the Orihuela Costa, such as Villamartin, Los Dolses and the beachside areas of La Zenia, Cabo Roig, Punta Prima and Playa Flamenca.
Alicante airport is located in the middle of the region from where visitors take the road to the North towards Benidorm, Altea and up north to Valencia……or South towards Orihuela and Torrevieja down to Cartegena or west towards Castilla La Mancha, a region with many historic towns and castles.
It is the region of the legend of Don Quixote from Cervantes.
The Costa Blanca region covers over 200 kilometres of Mediterranean coastline with over 70 Blue Flag beaches – boasting over 300 days of sunshine per year – the southern half of the Costa Blanca also offers a large selection of superb sports activities, lots of festivals and lively nightlife.  It's highly accessible, with plentiful flights to Alicante and Murcia International airports.
Costa Blanca has a well-developed tourism industry and is a popular destination for the British and serviced by Alicante Airport and supported by Murcia International airport.
The main towns in North Costa Blanca are: Alicante, Altea, Benidorm, Benissa, Calp, Dénia, Elche, El Campello, Finestrat, L'Alfàs del Pi, Teulada–Moraira, Villajoyosa and Xàbia (Javea). 
The tourist regions in South Costa Blanca can be found in Cabo Roig, Campoamor,  Guadamar de Segura,  La Marina,  La Mata, La Zenia, Los Dolces, Mil Palmeras, Playa Flamenca, Puta Prima,Torrevieja and Villa Martin, further south are the towns of Lo Pogan, Pilar de la Horadada, Santiago de la Ribera near the Mar Menor in Murcia region. 
Property in Costa Blanca South, from Alicante City down through Torrevieja and the Orihuela Costa, is hugely popular with international buyers looking for a holiday home or retirement property – and once you've visited the area, you'll understand why!  
Nearby the coastline there are salt lakes in Santa Pola and two salt lakes near Torrevieja – the Salt Lake of La Mata and Torrevieja itself. Interestingly one lake is blue/ green in colour the other is impressive pink!
The lakes are excellent locations for walks and  picnic areas plus view the flamingos feeding.
The Southern region is much drier that the Costa Blanca 'North' and the coastline is flat with beautiful sandy beaches and vegetation of palm trees, orange & lemon trees that's more typical Spanish. 
The North Costa Blanca is very mountainous with wonderful views and smaller sandy beaches accessed by windy roads in some places.
South Costa Blanca is also well–known for it's excellent golf courses – most of the best golf courses are located around Orihuela area – Villamartin, Campoamor and Las Ramblas Golf courses to name a few.
The Costa Blanca region offers something for everyone and is extremely popular.
With over 300 days of sunshine and average temperatures of 20C degree including 252 kilometers of coastline and sandy beaches the region offers many different activities as well as relaxation for visitors of all ages and residents alike!
Serviced by it's own Murcia International airport as well as Alicante airport to the north the region is easy accessible . 
There are so many activities – Murcia region has them all! Whether you want adventure, sports, nature, relaxation in a wonderful part of Spain where the sun shines all year round.
There are plenty of water sports available either in the Mar Menor or Mediterranean seas – sailing, kayaking, swimming, skiing, speed boat racing, kite surfing, windsurfing, diving and paddle boarding in numerous clubs, ports, sailing & sports schools. Most equipment can be hired and wreck diving and sailing courses are readily available.
Maybe you are passionate about mountain activities and are wishing to explore kilometers of mountains with contrasting landscapes by walking or on your bike – maybe you need to burn off adrenalin by undertaking adventure sports within the 19 Protected natural wilderness.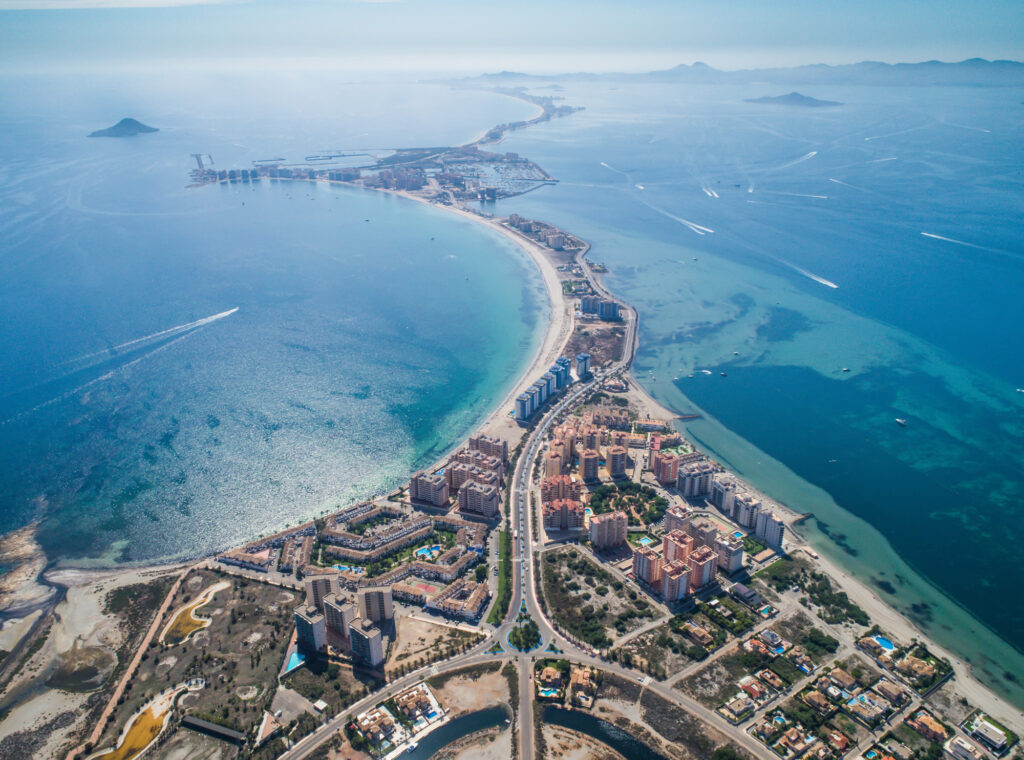 In addition there are an endless list of further activities which must be added – archaeology, health resorts, thalassotherapy centers, spas and the renowned Mar Menor mud baths.
There are 22 signature golf courses within a radius of 35 kilometers. The area is one of the top golf destinations in Europe which includes the highly regarded Las Colinas Golf Complex. 
You will enjoy one of Spain's international gastronomic centers of varied fresh Mediterranean cuisine where tradition coexists with the new ways of understanding cuisine complimented by a range of excellent renowned white, red and rose wines elaborated from Roman times. There are three DOC ( Denominations of Origins) Bullas, Jumilla and Yecla.
The region is known for its eclectic international music festivals to include Flamenco and Jazz to go with the fashionable international shopping.
The region allows you to explore its ancient cities and discover the richness and diversity of its cultures with Cartegena city being over 3000 years old.
The religious traditions of the region is very prevalent. There is a legacy of beautiful places of worship, places of pilgrimage, legends and a religious festival every month of the year.
In the North West of the region you will find Caravaca de la Cruz, Internationally known as the fifth holy city in the world.
The Region of Murcia is the place to be – You can keep yourself occupied or just relax!
Known as the Coast of the Sun, the Costa del Sol is located in the southern region of Spain with 325 days of sun a year and 150 kilometres of coastline. It is a world-renowned tourist destination.
 The region offers beautiful landscapes, fabulous beaches, delicious food, interesting customs and traditions. In addition, there are 13 marinas and yacht clubs with a variety of water sports on offer as well as plenty of renowned Golf courses and academies. In the evening there are casinos and a huge selection of leisure and entertainment options.
 The region includes the city of Malaga and main towns of Torremolinos, Benalmadena, Fuengirola, Mijas, Marbella, San Pedro de Alcantara and Estepona. There are a number of eclectic smaller town located within the region too.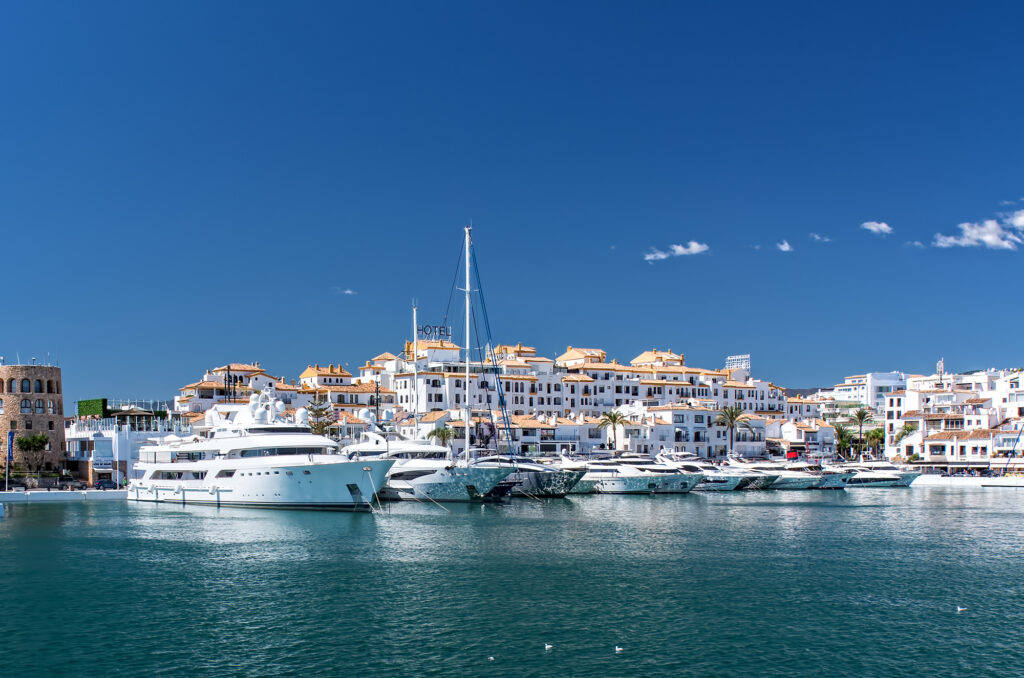 The coastal area has a diverse landscape with beaches to suit all tastes, some are livelier, others quiet and more solitary.
 The Costa del Sol resorts welcome millions of tourist annually arriving by car and air through Malaga, Granada or Gibraltar Airports.
 Cruise ships arrive at Port of Malaga.
 The cuisine of the region is influenced historically by Spanish, Jewish and Arabic traditions and emphasised by mainly seafood. Of course, the Tapas and Malaga wine is a traditional combination which includes Gazpacho, a famous refreshing cold soup.
 The local open air beachside restaurants called Chiringuitos offer some relief from the summer heat in the holiday season.
 The Costa del Sol is a place to be to enjoy the sun, sea and sangria together with the local gastronomic delights and Moorish traditions.